Regular price
Sale price
€20,00
Unit price
per
Sale
Sold out
Explore the flavours of the Sardinian land with Box Fregula sarda with date pulp and crab, a recipe kit in collaboration with Mutti. The term 'fregula' has a Latin derivation (ferculum) which, associated with verbs such as mince, fragment and frisare, could translate as 'crumb'. It is a typical type of pasta in the Sardinian tradition, dating back as far as 1000 years!
*The image is for illustration purposes only.
What's in the box

Tomatoes in pieces 300g

Fregula - Durum wheat semolina pasta 200g

Natural crab meat and 30% claws 170 g - drained weight 121g

Pitted Taggiasca olives in extra virgin olive oil 90g

Fine salt 4g
Nutritional values

Energy 487 kJ / 213 kcal;

Fat 3 g of which saturated fatty acids 0.4 g;

Carbohydrates 21 g of which sugars 2.6 g;

0.5 g fiber;

Proteine 6,1 g;

Sale 0,97 g
Allergens

Crustaceans | Wheat | Sulphites

It may contain olive pits or part of them and traces of nuts.
Details and Conservation

TOMATO IN PIECES & nbsp; (Ingredients: Datterino tomato pulp (65%) (Origin: Italy), tomato juices, salt) 300g

FREGULA - DURUM WHEAT SEMOLINA PASTA (Ingredients: wheat hard Senatore Cappelli stone ground (Origin: Italy), water) 200g

NATURAL CRAB MEAT AND 30% CRAB CLAWS (Ingredients: Crab (70%) (Portunus haani, Portunus pelagicus, Portunus sanguinolentus, caught with OTB bottom tralernet. FAO Zone 71. Pacific Ocean), water (28,07%), sal (1,151%), sugar (0,691%), acidity regulator: E330 acid; stabilizer: E450; antioxidant: E385, E223. It contains sulphites.) IT2567CE 170 g -drained weight 121 g

PITTED TAGGIASCA OLIVES IN EXTRA VIGIN OLIVE OIL (Ingredients: Taggiasca olives (61%) (Origin: Italy), extra virgin olive oil (36%) (Origin: EU), salt, acidity corrector: citric acid) 90 g

FINE SALT 2 packages of 2 g

Store the box in a cool and dry place. Keep away from heat sources. All products inside the box must be entirely used and consumed for the preparation of the recipe.

Product packed by Ricetta Italiana S.R.L, via M. Buonarroti 28/30, Gorle (BG), Italy.

*Image is for illustration purposes only.
Share
Features of the box
Tempo di preparazione

: 20 min
water and kitchen equipment
View full details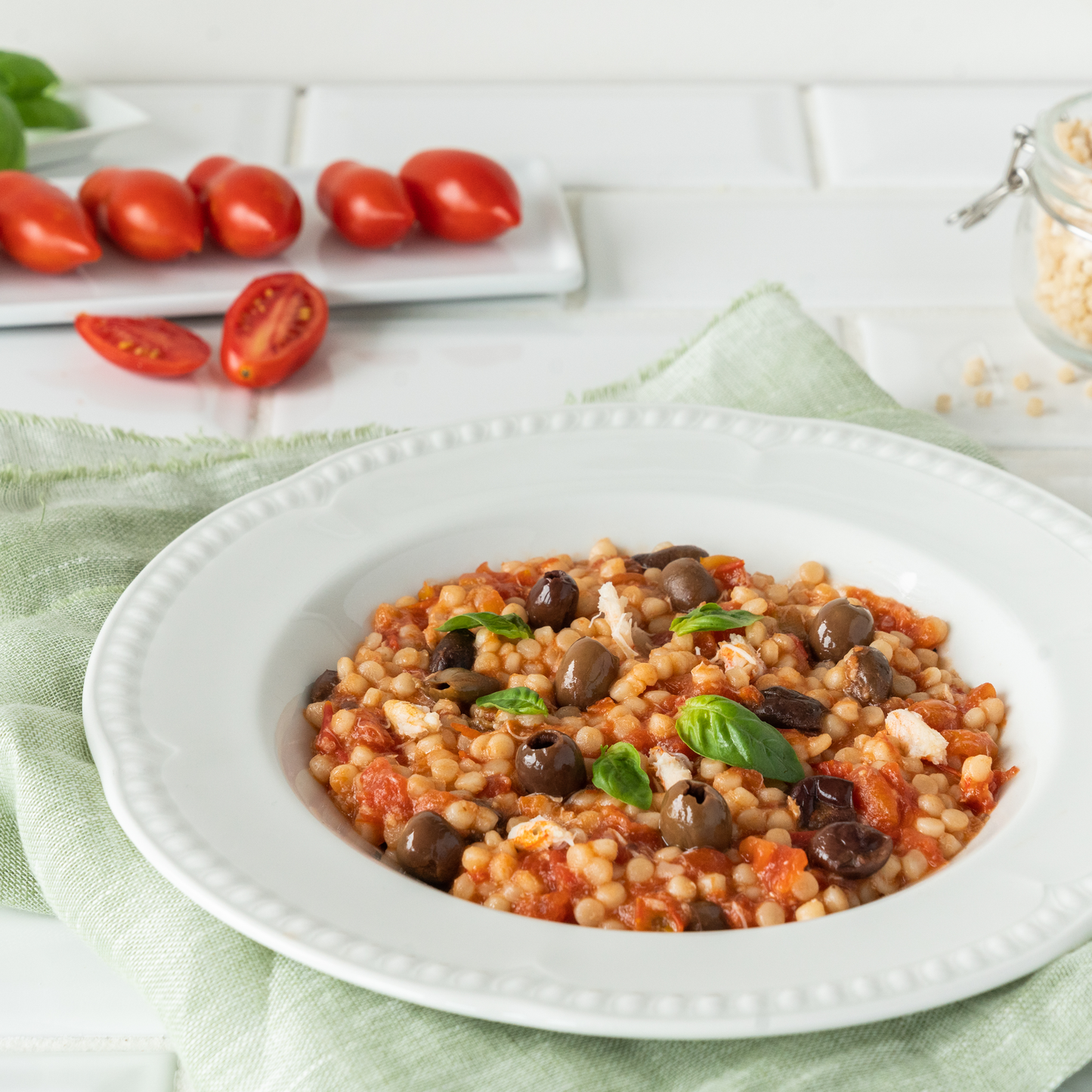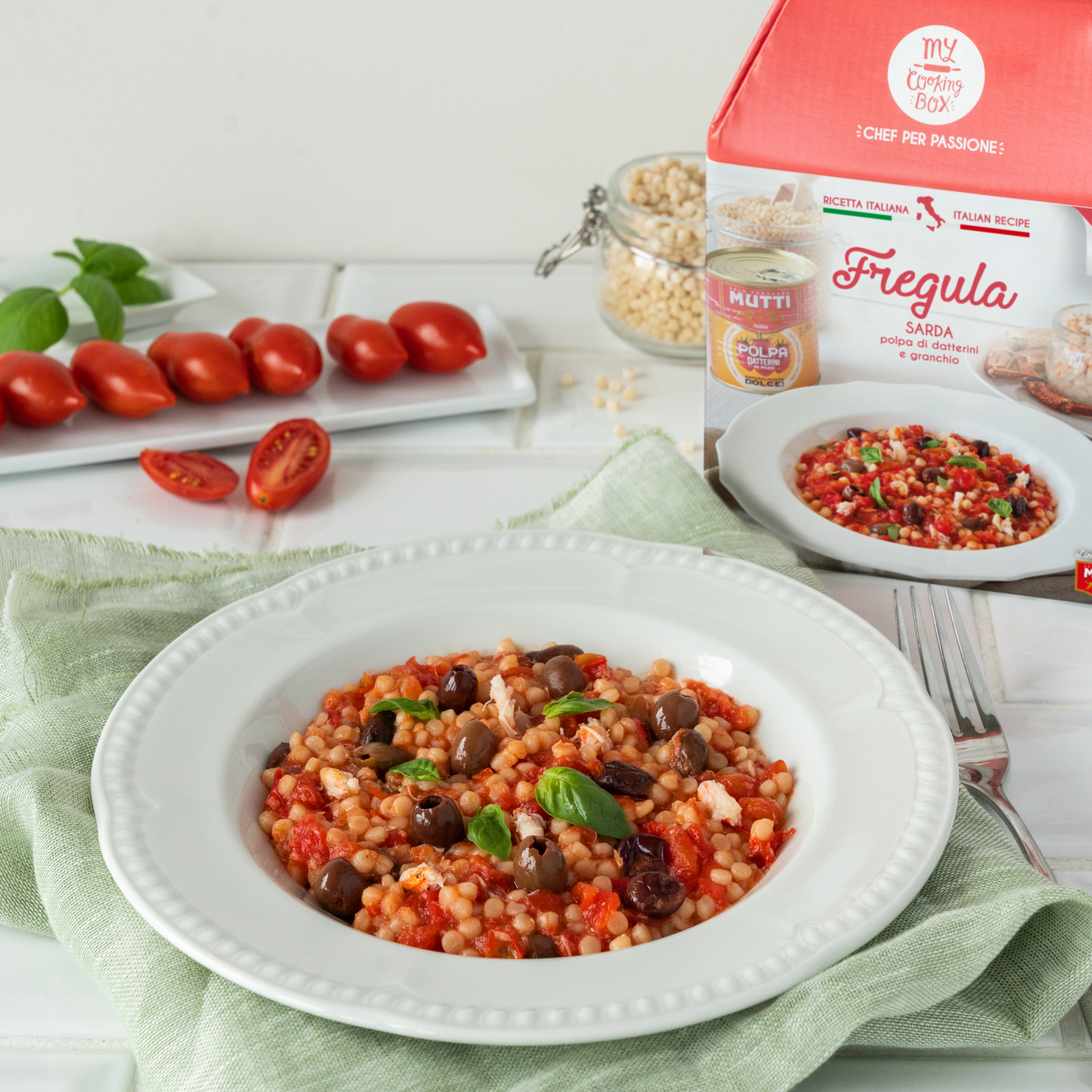 Sardinian fregula
Emblem of Sardinian cuisine, fregula is a pasta with very ancient origins whose dough is made only with flour and water.
Mutti datterini pulp
Only Italian tomato, red, sweet, ripe. The Pulp Datterini Mutti has a delicate and enveloping taste. Its unmistakable flavor is given by the datterino tomato.
Crabmeat
Appreciated for its smooth, delicate and sweet taste, crabmeat is an ingredient used in many cuisines around the world.

Free shipping for orders over €50
You may also be interested in...
Let's improve the planet together
Buy in Outlet up to 50% discount
We reduce food waste with our end-of-stock boxes or with closer expiration dates.
Discover our Gift Cards
Our Gift Cards for your gift
Choose our Gift Cards to be able to give a delicious and fun experience!
Our customer reviews
Check out the latest comments and reviews for Sardinian fregula with datterini and crab pulp written directly by our users:
Assessment: