Regular price
Sale price
€30,00
Unit price
per
Sale
Sold out
Prepare an impressive and original first course with our Beetroot Cream and Gold Leaf Risotto Box: a tasty risotto with Carnaroli rice, beetroot and almond cream and Taleggio DOP cream. All crowned with an elegant gold leaf. Impress your guests with this gourmet box at home!

*Images are for illustrative purposes only.
What's in the box

Carnaroli rice 150 g

Beetroot and almond cream 135 g

Pinot Grigio Terre Siciliane IGT 100 ml

Taleggio cream 95 g

Organic stock cube 15 g

Black pepper 0.3 g

Fine Salt 2 g

23 kt edible gold, 0.014 g
Nutritional values

Energy 1022 kJ / 244 kcal;

Fats 14 g of which saturated fatty acids 1,3 g;

Carbohydrates 26 g of which sugars 1,7 g;

Fibres 0,5 g;

Proteins 4,6 g;

Salt 2,1 g
Allergens

Milk|Almonds|Celery|Sulphites|Eggs

May contain traces of fish, soya, nuts, mustard and sulphur dioxide.
Details and Conservation

CARNAROLI RICE (Country of cultivation and processing: Italy) 150 g

BEETROT AND ALMONDS CREAM (Ingredients: beetroot (Origin: Italy) 50%, sunflower seed oil 34%, almonds 5%, onion 5%, wine vinegar 3,5%, salt 2%, garlic 0,5%) 135 g

PINOT GRIGIO DELLE VENEZIE IGT WINE (12,5% vol. Contains sulphites) 100 ml

TALEGGIO CHEESE CREAM (Ingredients: Taleggio cheese PDO 45%, water, cream, melting salt: sodium citrate, yolk of egg, modified starch) 95 g

VEGETABLE STOCK CUBE- broth preparation (Ingredients: vegetables 55% (carrots, celery, onions in varying proportions), salt 30%, extra virgin olive oil 7%, garlic, herbs) 15 g

FINE SALT 2 g

BLACK PEPPER 0,3 g

FOOD-FRIENDLY COLOUR (E175) - ORO 23 KT 0,014 g

May contain traces of fish, soy, nuts, mustard and sulphur dioxide.

Store the box in a cool and dry place. Keep away from heat sources. All the products inside the box must be used and consumed together for the preparation of the recipe.

Product packed by Ricetta Italiana S.R.L, via M. Buonarroti 28/30, Gorle (BG), Italy.

*Image is for illustration purposes only.
Share
Features of the box
Tempo di preparazione

: 25 min
View full details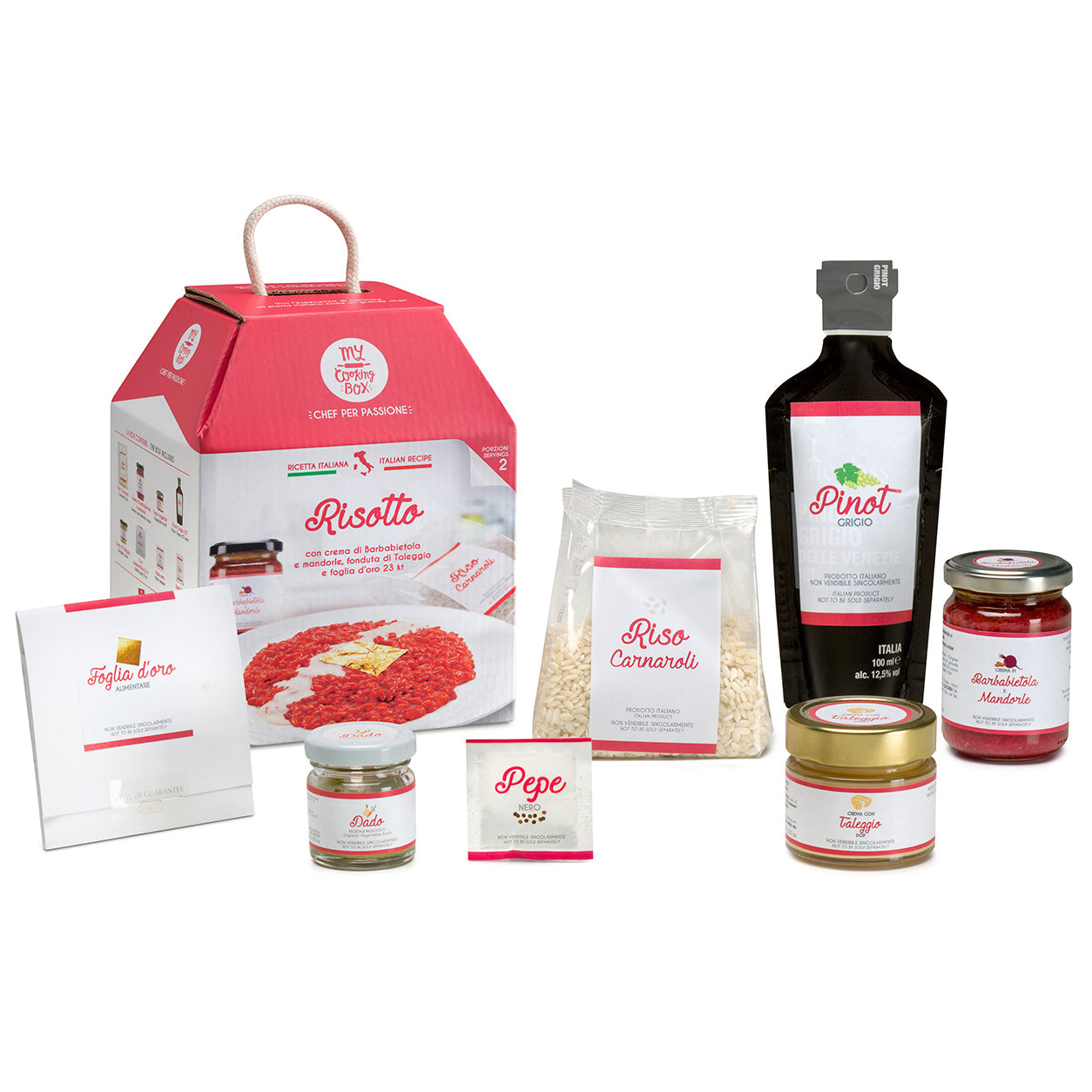 Carnaroli rice
In the heart of the Vercelli rice fields, we found the perfect Carnaroli rice for this beetroot risotto produced by a historic local company.
Beetroot sauce
Our beetroot sauce, enriched with crunchy almonds, gives an unmistakable taste to this autumn season recipe.
Gold leaf
The final touch is given by the gold leaf, whose food use dates back to ancient times and whose addition gives a refined and gourmet flavour.
Free shipping for orders over €50
You may also be interested in...
Let's improve the planet together
Buy in Outlet up to 50% discount
We reduce food waste with our end-of-stock boxes or with closer expiration dates.
Discover our Gift Cards
Our Gift Cards for your gift
Choose our Gift Cards to be able to give a delicious and fun experience!
Our customer reviews
Check out the latest comments and reviews for Risotto with beetroot cream and gold leaf written directly by our users:
Assessment: